FREE MINI COURSE
The Modern Homemaker
Redefining What it Means to Make a Home
An exploration of home design
Jan. 23rd - Jan. 27th, 2023
Are you ready?
It's time to redefine and reclaim what it means to be a homemaker!
With so many changes over the last few years, it's often hard to recognize our communities as the world becomes more divided. The ONE place you still have great influence over is inside your own home. Whatever stage of life you're in, let's explore home design and create a home you LOVE.
Come hang out with me for the week!
Here's what's planned:
MON Jan 23rd
Lesson #1
Let's DREAM together!
Every beautiful home begins with a vision. In Monday's lesson we'll explore your top home priorities and begin creating your custom home plan.
TUE Jan 24th
Ask Me Anything
On Tuesday, join me for a LIVE discussion and Q&A session held via zoom. I'll answer your submitted questions and we'll have a deeper discussion on our home ideas and dreams.
WED Jan 25th
Lesson #2 Pockets of JOY!
On Wednesday, learn my secret method for creating a more joyful home.
*Hint - It's fun, easy to do on a budget, and will instantly change the way a room feels.
THURS Jan 26th
Ask me anything
On Thursday we'll have another LIVE discussion and Q&A session held via zoom. I'll answer your questions and we'll continue the deeper discussion.
FRI Jan 27th
Lesson #3
Let's make it happen!
On Friday, we'll take everything we've learned from the week and turn it into an actionable plan. Let's make those dreams a reality!
Join the Free Mini Course
January 23rd - 27th, 2023
I believe the definition of
homemaker

is outdated and I have a feeling you do too.

If you long to have a home where you can truly rejuvenate and explore then you might want to reconsider the word too. Let's take back this word together and turn it into something that feels empowering, comforting, and as unique as we all are!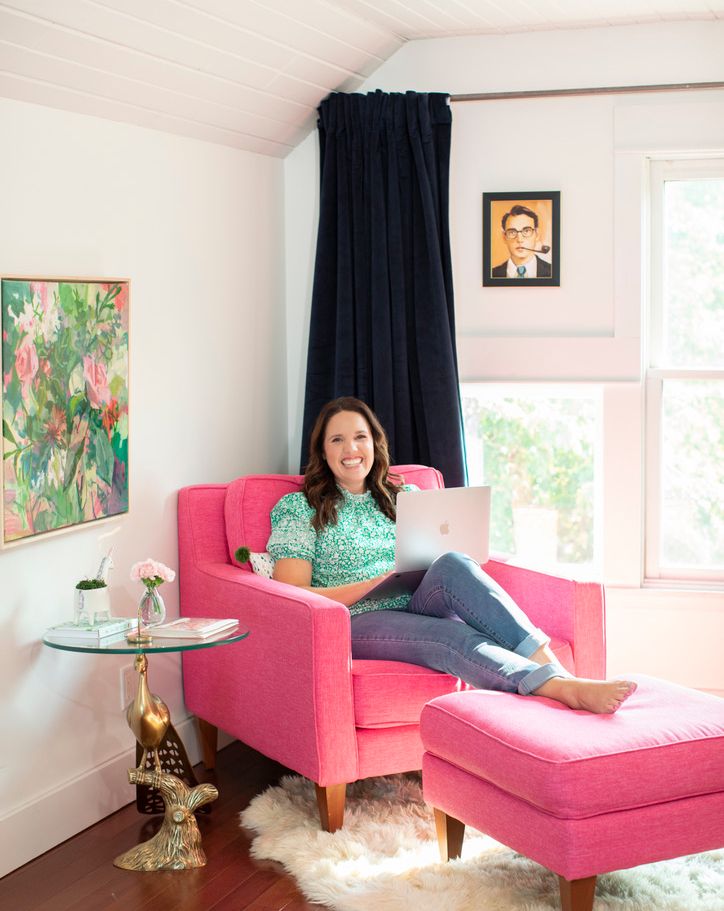 What it means to be a modern homemaker:
✔️ You set the rules. Your home is meant to serve you and your lifestyle.
✔️ Being a homemaker has nothing to do with staying home full-time or working outside the home.
✔️ No gender barriers. We all work together to create a joyful home.
✔️ It's a decision to value your physical space and create an environment where you and your loved ones can thrive.
✔️ No judgement on how it should or shouldn't be done.
What a modern homemaker is NOT:
❌ Having a picture perfect home
❌ Doing it all yourself
❌ Living up to other people's ideals
❌ Comparing your home to others
❌ Slaving away in the kitchen all day
A note to
creatives...
an ordered space = a calm mind
Are you longing to do more creative work and need your home to support your creativity?
I believe your home can:
make you feel more inspired

ground you when your mind is swirling

be a source of inspiration

support your creative work AND those you love
Let's create a physical space that ignites creativity, fosters harmony, and sets you up for creative success in 2023!
Meet your teacher
Hi, I'm Tessie!
I'm a modern homemaker and artist living in Spicer, Minnesota. I teach people how to create a home that's 100% unique to them. I believe your home should embody your personality, honor your quirkiness, and support your daily life. I'm all about loving deeply, giving yourself grace, and finding joy in the little things. I'm a mom of 4 and have lived in 12 different houses all over the world.
Frequently Asked Questions
What if I'm joining late?
When are the LIVE sessions?
What if I can't make it to the LIVE session?